Huts for the whole family
Rent a hut and spend a hut holiday at Albertinelund Camping in Eastern Jutland. You find many different huts and apartments, so regardless that you are two persons or a large family, we have the hut that gives you some cozy days.
Huts with access to it all
The huts are from 15 to 30 square meters, all huts are equipped with kitchen, but it is only our huts at 25 and 30 square meters, which is equipped with bath and toilet.
When you rent a hut at Albertinelund Camping, you have free access to all facilities, such as toilets/baths, building, kitchen, pool, etc. We will, of course, also look forward to seeing you to one of our many arrangements at the campsite.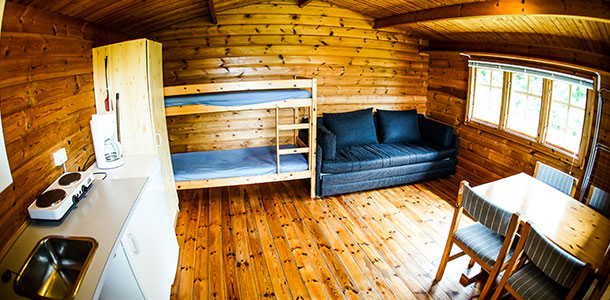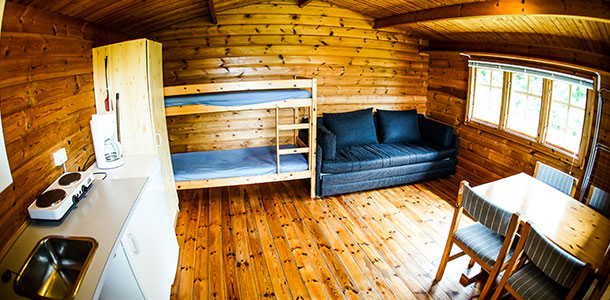 Group arrangements
Are you going to have an arrangement, you can have your next group arrangement here. We can both offer you an indoor arrangement or an outdoor arrangement. Contact us and we will figure, how we can accommodate your needs the best way.
4 people in a hut
DKK

3.150

Period: 01/01 – 03/07
Washbasin, refrigerator, coffee machine
Kitchenware for 4 people
At the terrace, there is a garden table and 4 chairs
Electric heating in the hut
Remember linen
Access to playland and waterpark
6 people in a hut
BESTSELLER
DKK

5.550

01/01 – 03/07
The hut is 30 square meters in 3 rooms and toilet and bath
Water, washbasin, kitchen, coffee machine and television
Kitchenware for 6 people
Terrace with garden table and 6 garden chairs
Electric heating
There are 6 duvets and pillows
Remember linen
Access to playland and waterpark
6 persons in a hut
DKK

5.250

01/01 – 27/06
The hut is 25 square meters in two 3/4 bed with a bunkbed
Toilet and bath
Living room/kitchen with running water, washbasin and coffee machine
Terrace with garden table and 6 garden chairs
Electric heating in the hut
There is 6 duvets and pillows
Remember linen
Access to playland and waterpark
Huts for 4 people (15 square meters)
From: DKK 440 per day
One room kitchen/living room with a double sleeping couch and a bunkbed for two persons.
Kitchen: Washbasin, refrigerator and a coffee machine
Kitchenware for 4 people
Terrace with a garden table and 4 chairs.
Electric heating in the hut.
Remember linen
Huts for 6 people (25 square meters)
From: DKK 780 kr. per day
The hut is 25 square meters 2 3/4 bed with a bunkbed
Toilet and bath
Living room with water, washbasin, refrigerator and coffee machine
Kitchenware for 6 people
Hut no 4-7 has room with 3/4 bed in the living room
Terrace with garden table and 6 garden chairs
Electric heating
Remember linen
Huts for 6 people (25 square meters) with bunkbeds
From: DKK 780 per day
The hut is 25 square meters in 3 rooms and toilet and bath.
Living room/Kitchen with water, washbassin, refrigerator, coffee machine and television
Kitchenware for 6 people
Hut no 8-9 has room with 3/4 bed and room with bunkbeds for 4 people
Terrace with garden table and 6 garden chairs
Electric heating in the hut
There are 6 duvets and pillows
Remember linen
Huts for 6 people (30 square meters)
From: DKK 810 per day
The hut is 30 square meters in 3 rooms and toilet and bath
Living room/Kitchen with water – washbasin – refrigerator – coffee machine – television
Kitchenware for 6 people
Hut no 10-11-12-13-14 have 2 rooms with 3/4 bed and hems with 2 places to sleep
Terrace with garden table and 6 garden chairs
Electric heating in the hut
There is 6 duvet and pillows
Remember linen
Holiday apartment for 10 people
From: DKK 1,300 per day
Kitchen, refrigerator with ice box, and dishwasher. Kitchenware for 10 adults + 2 children.
Two chairs for the children.
Kitchen and living room are in one with eating area, sofas and chair.
Bathroom with toilet, shower and an extra toilet.
Washing machine and tumble drier
Room for 10 people, in 5 bedrooms. There is bed in two of the rooms.
Room for 10 adults + 2 children below three years of age.
Patio, where you can grill and enjoy the view of the site, enjoy nature and see the ocean.
View to the sea from the North bound roof windows
Entrance